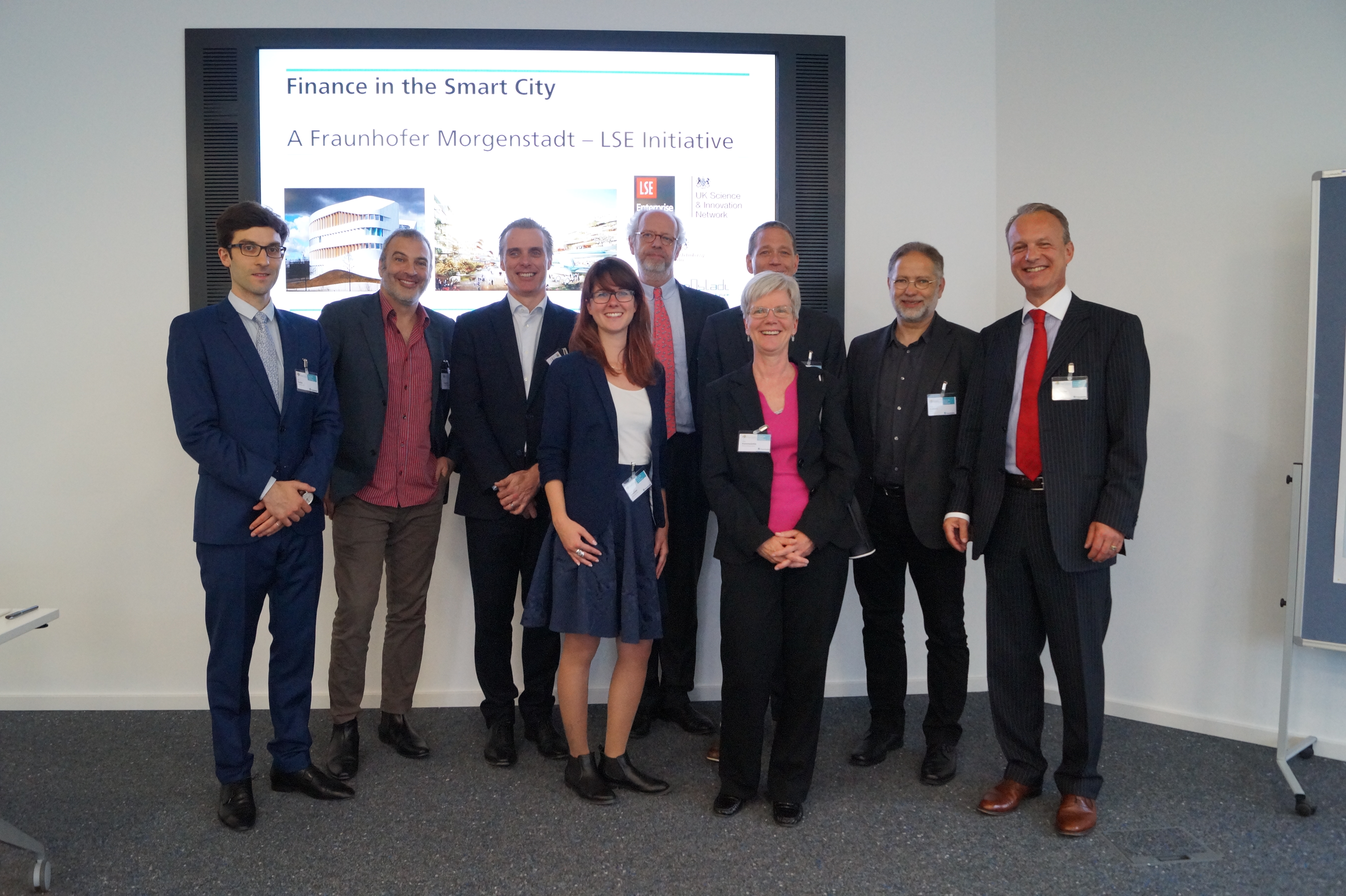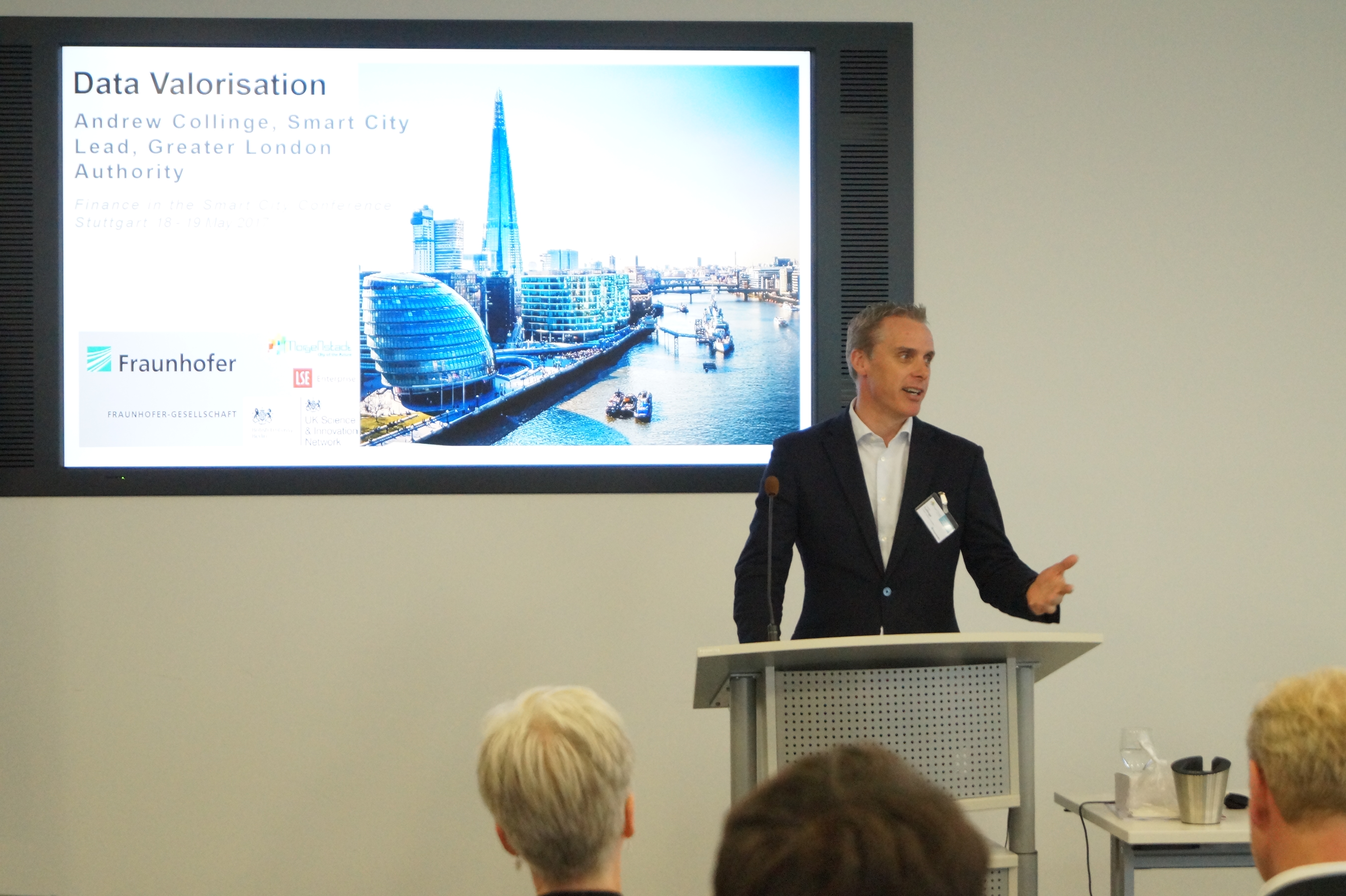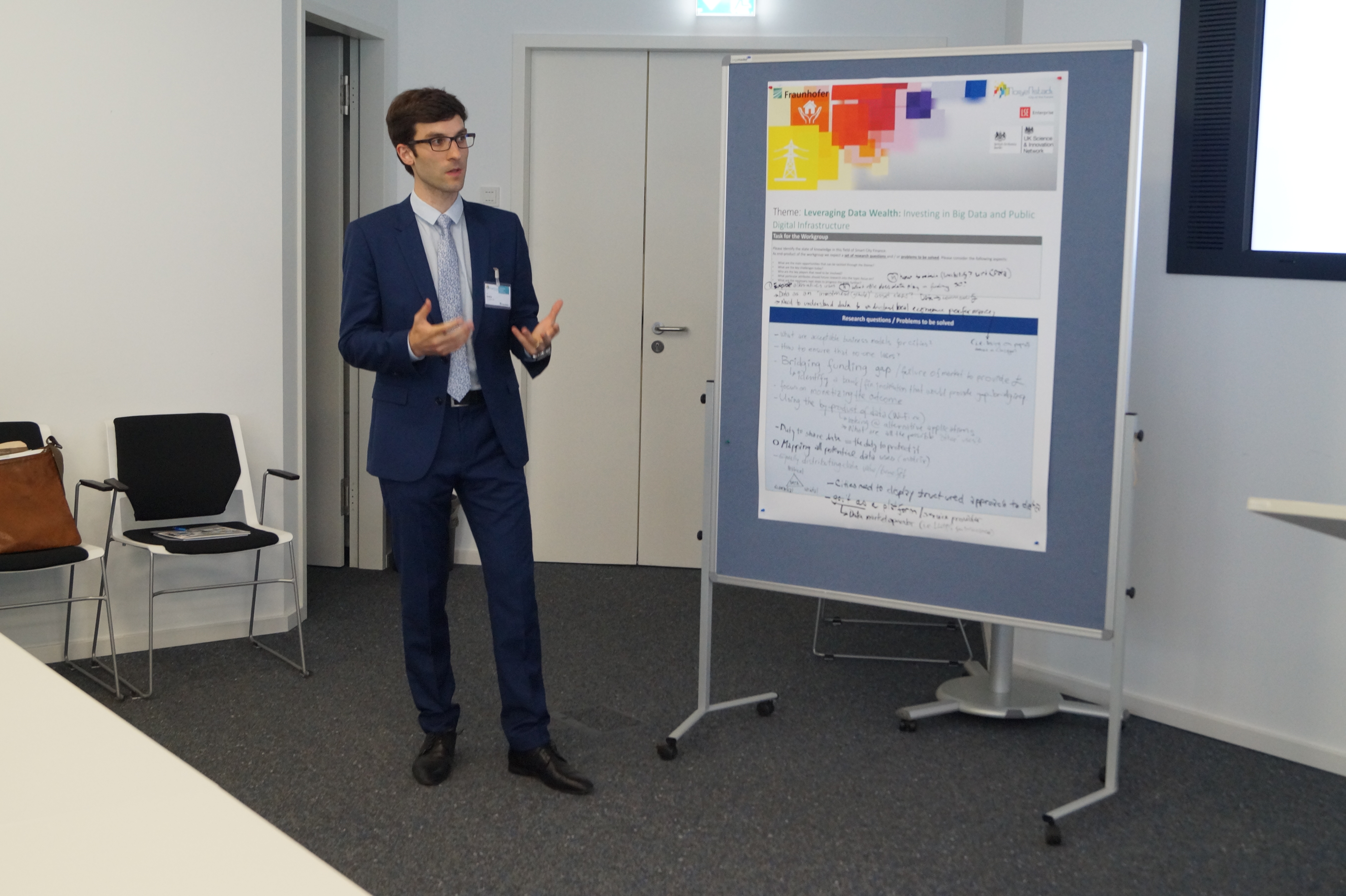 "Finance in the Smart City" Conference – Sustainable and profitable investment in the city of tomorrow
Lesen Sie den Artikel hier auf Deutsch
In collaboration with the British embassy of Germany, Fraunhofer Morgenstadt Initiative, and LSE Enterprise, Fraunhofer IAO has successfully hosted last week's "Finance in the Smart City" Conference on the Fraunhofer campus in Stuttgart. As one of the first events focusing on this specific topic, the conference brought together German and British Smart City experts, representatives of municipalities, financial service providers and insurance professionals as well as a wide range of private companies.
Whereas a significant number of pilot projects and local demonstrators in the field of Smart Cities already exists, the need for an advanced and systematically relevant Smart City solution, which can easily be integrated on a large scale, still remains to be resolved. The lack of market-ready and stable investment options is one of the major reasons for this development. The conference attendees agreed that in order to create more incentives for possible investments, a joint effort of cities, research, industries, and governments is absolutely essential. Creating services and new financial concepts that allow the innovative use of urban data and infrastructure should be a major goal for all parties involved in the process of building a Smart City, as profitable city models and concepts are more likely to attract investors. Also, serious urban challenges, such as the improvement of air quality and the implementation of autonomous vehicles require a new approach to risk management as well as new innovations in the field of insurance and underwriting.
The opening of the conference was held on Thursday, May 18th, with a dinner at Leonhardt's Restaurant located inside the Stuttgart TV Tower. During the get-together, Smart City experts had the opportunity to network and share insights and experiences on Smart City related topics. On Friday, May 19th, Alanus von Radecki (Fraunhofer IAO) and Chris Bradley (British Embassy Germany), the official hosts of the conference, welcomed all participants on the Fraunhofer campus. Dimitri Zenghelis (Grantham Research Institute and LSE Enterprise professor) opened the conference with an exciting keynote on the environmental and economic effects of global warming and possible application fields for Smart City solutions. Subsequently, Andrew Collinge (Greater London Authority) evaluated on the possibilities and limits of urban data usage and the value of data. Jan Blumenthal (Lloyds Regional Manager for Germany) continued with a presentation on underwriting innovation and potential risks for Smart Cities, while outlining the economic and ecological consequences resulting from these scenarios. Blumenthal further explained how Smart Cities could improve their resilience to face climate change and digital security disruptions. Complementing the morning program of the conference, Holger Robrecht (ICLEI) discussed possible challenges for Smart Cities in the field of governance and finance.
In the afternoon, the conference attendees participated in three different workshops covering three key themes of the entire event (value of data, underwriting innovation and governance of finance). Petr Suska, financial expert at Fraunhofer IAO, hosted the workshop "Data Wealth." Florian Lennert (Lecturer at LSE Enterprise) moderated the workshop "Valorisation Public Health and Underwriting Innovation." Workshop #3 "Governance and Finance of Smart City Systems and Services" was hosted by Dimitri Zenghelis (Professor at the LSE and the Grantham Research Institute).
After presenting the workshops' results, Petr Suska and Florian Lennert both committed to continue the ongoing dialogue with conference attendees outside the event, with a couple of research problems and ideas in mind. "The conference was a great success and we received very positive feedback from all participants," Petr Suska explained. "The reaction indicates that the level of interest on Smart City finance topics will further increase in the future."
ss7